Who doesn't love saving money on their races?!
Thanks to the following races for generously offering race discount codes to Michigan Runner Girl readers and listeners. Please be sure to take advantage of these special savings!** Race directors: If you are interested in offering a discount code — and want to increase your race registration numbers! — please contact MRG at heather [at] michiganrunnergirl [dot] com to learn more about how we can partner and encourage our fellow Michigan runners to enjoy our state's thriving race scene.
**Please note the dates during which these race discounts are offered; in some cases these codes are good leading up to race day, while others are for a specific time period.
—
Summer Races
The Race: MUTT (Mid-Michigan Ultra Team Trail Race) at Mid-Michigan Community College, Harrison, Mich. on Saturday, June 17, 2017. Why relay race when you can team race….MUTT-style. Get your team of 4 runners together and experience this one of a kind team trail race! The MUTT is not a relay race, but rather a team trail race that requires 4 team members to start and stay together at the beginning of the race, and one by one turn around at the halfway point of each individual distance. The format allows for different distance runners to race together, and also assures each runner contributes to the success of the team. 
The Discount: First 10 teams to register using this code — MRG10OFF — receive a discount of 10% (or $20). Learn more and register here »
The Race: Mercy Health Seaway Run and Lake Michigan Half Marathon on Saturday, June 24 in Muskegon. This race, over 30 years old, starts and finishes in downtown Muskegon and features a post-race street party. New expo location this year! This event includes a half marathon, 15K and 5K run/community walk.
The Discount: Use the code MRG2017 to receive $5 off your race entry. Learn more and register here »
The Race: Two Hearted Trail Run – 50K, Marathon, Half Marathon on June 24 in Paradise, Mich. Runners in the 50K and marathon will experience this rugged coastline first hand via single track on high bluffs and more intimate shoreline forests. In addition, the race course winds inland along the shores of Culhane Lake and the Little Two Hearted River. The course is 80% single track and 20% dirt forest road or two track. This course has the capacity to transform the way you see nature and the world. The half marathon is a challenging loop that takes runners through old growth white pine forest and along the much-loved ridge on the southern shore of Clark Lake. All races finish at the Upper Tahquamenon Falls, second highest east of the Mississippi. Camp 33 Brew Pub is located 200 meters from the finish.
The Discount: Use the code MRG2HEART to save $10 off your race entry (this is good for any of the race distances) Learn more and register here »
The Race: Priority Health 5K Run/Walk, 10K, 15K and Chateau Grand Traverse Half Marathon on Saturday, July 8 in Traverse City, Mich. Known as the "Original Traverse City Foot Race," the Festival of Races that are part of the National Cherry Festival each July include distances for just about any runner: a half marathon, 15K, 10K and 5K. These races, which take place the final weekend of the weeklong festival, are a summer tradition for many runners. This year marks the races' 44th year—the race started in 1973 as a 10K and shifted to a 15K in 1978. In 1989 the 5K was added; most recently, the 10K was re-introduced along with a half marathon. All told, more than 50,000 participants have crossed the finish line over the years.
The Discount: Use the code MRG2017 to save $5 off your race entry. Learn more and register here »
The Race: Vineyard to Bay 25K, 15K/10K relay and 5K run/walk on Sunday Aug. 27, 2017 in Suttons Bay. These are point-to-point courses and encompass both the Leelanau Trail and Wine Trail of Leelanau County before ending in Suttons Bay. Proceeds from all races benefit Suttons Bay
Public Schools and TART Trails. The event features cash prizes, age group awards and finishers awards. For more information, including volunteer or sponsorship opportunities, go to the race web site here »
The Discount: Use the code MRG2017 to save $5 off your race entry. This is good until Aug. 24, 2017.
Listen to the podcast episode featuring Heather's conversation with race director Ross Deye here »
The Race: Boyne City Triathlon, Sunday, Sept. 3, 2017 (Labor Day weekend) at Peninsula Beach Park in Boyne City. Races include Olympic and Sprint Distance Triathlons and a Sprint Duathlon. Learn more about how this race got started by listening to this MRG podcast episode featuring the inspiring story of race director Rob Swartz »
The Discount: Use the code MRGTL717 to save 10% off your race entry.
Fall Races
The Race: Holland Haven Marathon, Half Marathon & (all new for 2017) 8K, Sunday, Sept. 10, 2017. Holland Haven Marathon runners experience the beautiful coast of Lake Michigan as they travel from Grand Haven to Holland. The 13.1 mile Holland Haven Half Marathon begins at Camp Geneva Christian Youth Camp along the Lake Michigan coastline. Runners follow the scenic Lakeshore Drive past the beaches and into the City of Holland. The 8K race is a great segue into longer distance races. The Holland Haven 8 kilometer race is a flat route, out-and-back course. As a mid-distance road race, it is accessible enough for the novice runner yet incredibly challenging to experienced racers.
The Discount: Use the code HHM2017MRG to save $10 off your race entry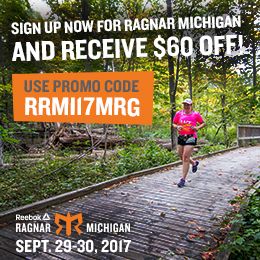 The Race: Reebok Ragnar Relay Michigan, Sept. 29-Sept. 30, 2017. Teams of 12 or 6 will start the 200-ish mile relay in charming Muskegon, where runners speed past historic ships and lighthouses with a van of teammates cheering them along each leg of the course. The race finishes in Traverse City – home to some of Michigan's finest wineries and the sapphire blue Grand Traverse Bay. A Ragnar wouldn't be complete without a finish line party, hunky finisher medal and stories to tell for years to come. Find out what it means to find your #innerWILD and mark your running calendar for Sept. 29-30. Reebok is giving every team captain a free pair of shoes.
The Discount: Use the code RRMI17MRG to receive $60 off your team entry (good until August 16, 2017). Register here »
The Race
:
Lake Michigan Credit Union Bridge Run
on Sept. 17, 2017 in downtown Grand Rapids. This event includes a 5K and 10 Mile race. The Lake Michigan Credit Union Bridge Run provides runners the chance to see some of the best sights in Grand Rapids. The 10 Mile run, 5K run or 5K walk starts in the heart of downtown Grand Rapids at Rosa Parks Circle.  From there the course takes runners over the city's historic bridges, along the Grand River, through parks, and back to the finish on Monroe Center.
The Discount
: Use the code
girl
to receive $5 off your race entry. The code is valid on adult pricing now through race morning.
The below races have already taken place; check back in coming months for updated race discount codes for 2017-18 winter/spring events.
Winter Races
The Race: Fifth annual Winter Blast Half Marathon, 10K & 5K, presented in partnership by Kalamazoo Area Runners (KAR) and the City of Portage on Sunday, Feb. 26, 2017 (Expo Saturday, February 25). The half marathon, 10K and 5K courses highlight the Portage Trail Way System and include a mix of mostly flat paved bike trail and roads.  All courses are USAT&F certified. All running events start and end at Portage Central High School, 8135 South Westnedge Avenue, Portage, MI  49002. Events begin at 8 a.m., with individual race start times to be announced. The half marathon will close registration once it reaches cap of 1,500.
The Discount: Use the code MRG2017 to receive $5 off your race entry. Learn more and register here »
The Race: Tahquamenon Snowshoe 10K & 5K, Paradise Mich. on Feb. 18, 2017. Great Lakes Endurance hosts this snowshoe race at Tahquamenon Falls State Park. (I have had a blast running this race – you can read all about it here»)
The Discount: Use the code MRG5TS to receive $5 off your registration. This is good for the 5K or the 10K.
Spring Races
The Race: Kal-Haven Trail Run, Saturday, April 8, 2017. First presented in 1991, the Kal-Haven Trail Run is a 33.5 mile event that includes a solo run, a 2-person relay, and a 3-6 person team relay. The event begins in Kalamazoo at the Kal-Haven Trail's 10th Street trailhead and finishes in South Haven, showcasing the Kal-Haven Trail system. The event benefits the Greater Kalamazoo Girls on the Run and the Kalamazoo Area Runners. Solo Registration $50 Team Registration $35 per team member Registration will be limited to 150 solo participants (solo runners must be at least 18 years old), 40 2 person teams, and 80 3-6 person teams to ensure safety during the event. Registration opened Nov. 1, 2016. Register early to reserve your spot! 
The Discount: Use the code MRG2017 to receive $5 off your race entry. Learn more and register here »
The Race: Gazelle Girl Half Marathon, 10K & 5K, Sunday, April 23, 2017 in Grand Rapids. Whether you are looking to complete your first 5K or half marathon or are looking to set a PR, this event is for you! Grab your girlfriends, mothers, sisters, cousins, grandmas, aunts, or co-workers and get registered for this all-women event! Take the first step toward better fitness and be part of something incredible – the Gazelle Girl community! All proceeds benefit charities that serve and empower women.
The Discount: Use the code GGJOHNSONDUROCHER17 to save on your race entry. Get signed up here »
The Race: the ForeShore Adventure Run, supporting the Muskegon Rescue Mission and showcasing the lakeshore of west Michigan. The run takes place this year on May 20, 2017. This is the event's third year and it takes place on Muskegon's beaches at Pere Marquette Park.
The Discount: Use the code runnergirl to save 25% off your race entry. This offer is good through March 31, 2017.
The Race: North Mitten Half Marathon, 10K and (all-new!) 5K at Crystal Mountain in Thompsonville, Mich. on Sunday, May 28, 2017. Kick off summer with a running start at Crystal Mountain's half marathon, 10K and 5K race. The North Mitten Half Marathon and 10K and 5K is a combination of paved roads, dirt roads and trails. The North Mitten route consists of primarily flat, open trails on Crystal Mountain property and will not climb the mountain.
The Discount: Save $10 when using the code MRG2017